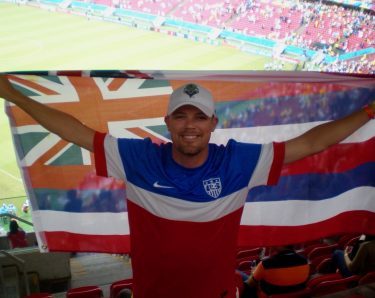 Justin has always enjoyed meeting new people and making them lifelong friends.  He was born in Sioux City, Iowa, where he grew up playing baseball and watching Star Wars. He spent his high school and college years in Southern California, even proposing to his wife at Disneyland.  
Justin started playing golf in college, and decided it would make a fun profession.  He became a member of the PGA in 2005.  The golf business would take him and his wife to Scottsdale, Arizona…Monterey, California…and Kapolei, Hawai'i. While in Hawai'i, he joined a CrossFit box and got hooked. 
After working over 20 years in the golf business, Justin was ready for something different.  He grabbed a bottle of wine and some courage and shared his thoughts on an international move with Donna in December of 2016.  Three months later, they had sold their home and most of their possessions, and were on a flight to Managua with a couple surfboards and their two dogs.
"I am so stoked to be here in Nicaragua.  I love everything about the town of San Juan del Sur.  There is a huge sense of community.  The small-town feel is real, and reminds me of my Midwest upbringing. I look forward to enhancing Fight Club, our community gym, and offering an awesome place for both locals and visitors to feel welcome.  We offer something for everyone.  Come up and work out…or just hang out!"