Class Schedule / Horario de Clases
See our class descriptions below the schedule.  Check back each month for new classes and times!
Vea nuestras descripciones de clases debajo del horario.  ¡ Revise cada mes para ver nuevas clases y horarios!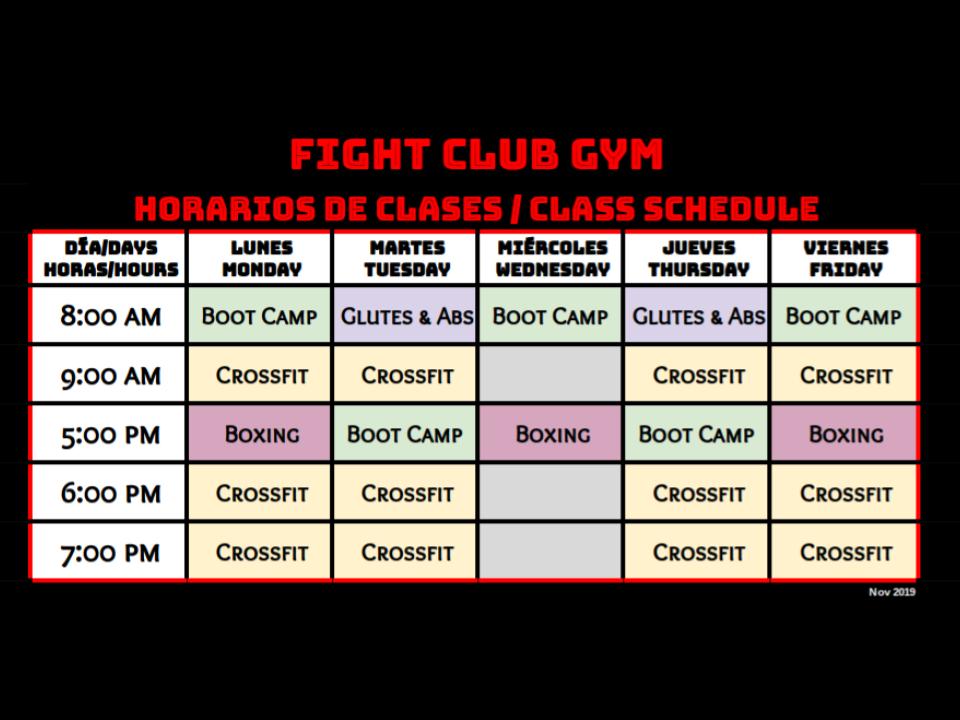 Gym Hours / Horarios del Gimnasio:
Monday – Friday: 6:30am to 8pm  ♦ Saturday: 6:30am to 5pm ♦ Sunday: 8am to 1pm
Lunes – Viernes: 6:30am to 8pm  ♦ Sabado: 6:30am to 5pm ♦ Domingo: 8am to 1pm
➳  

Boot Camp
Need an early morning fitness class to get you going? Need to relieve some stress after work? If you want to get started with a fun total-body workout class, or are in town visiting and want help working off those Toñas, come to our boot camp class with Lesly! This class mixes cardio, strength training, and abdominal workouts with a variety of exercises. Sweating guaranteed!
¿Necesitas una clase de ejercicios temprano en la mañana para ponerte en marcha? ¿Necesitas aliviar algo de estrés después del trabajo? Si quieres comenzar con una divertida clase de ejercicios para todo el cuerpo, o si estás en una visita de la ciudad y deseas ayuda para quemar las calorías de esas Toñas, ¡ven a nuestra clase de entrenamiento con Lesly! Esta clase combina cardio, entrenamiento de fuerza y ejercicios abdominales con una variedad de ejercicios. Sudor garantizado!
➳  

Glutes and Abs
Because here in SJdS, it's year-round swimsuit season! Looking to firm that butt and lose that gut? This class will help strengthen your core and glutes, as well as the muscle groups connected to those key areas. Not only will you look great, but your lower back will thank you for making the supporting muscles strong! Coach Lesly will help you firm up and get strong!
¡Porque aquí en SJdS, es temporada de traje de baño durante todo el año! ¿Buscando afirmar ese glúteos y perder esa barriga? Esta clase ayudará a fortalecer su abdominales centrales y glúteos, así como los grupos musculares conectados a esas áreas clave. No solo te verás genial, sino que la parte inferior de la espalda te agradecerá por fortalecer los músculos de soporte. El entrenador Lesly te ayudará a fortalecerse!
➳  Boxing
Want to learn to throw some punches? Interested in learning some self-defense skills? Want to get fit while hitting things and people? Carlos will share his knowledge of boxing while giving you a great workout! This class incorporates a mix of  learning a variety of offensive and defensive boxing combinations with cardio, hand-eye coordination, and mobility training.
¿Quieres aprender a lanzar algunos golpes? ¿Interesado en aprender algunas habilidades de defensa personal? ¿Quieres ponerte en forma mientras golpeas cosas y personas? ¡Carlos compartirá su conocimiento del boxeo mientras te da un gran entrenamiento! Esta clase incorpora una combinación de aprendizaje de una variedad de combinaciones de boxeo ofensivas y defensivas con cardio, coordinación ojo-mano y entrenamiento de movilidad.
➳  Crossfit
Regular attendance at these high intensity interval training classes will make you stronger, fitter, and want to keep coming back for more! Justin and Arlen will get your heart rate going and keep you moving with a variety of workouts. They can scale the workouts for any fitness level, from beginner strength training to advanced techniques in barbells and Olympic weightlifting. Bring a friend and challenge each other to be the fittest and sweatiest people in the gym!
¡La asistencia regular a estas clases de entrenamiento de intervalos de alta intensidad te harás más fuerte, más saludable, y quieres seguir regresando por más! Justin y Arlen obtendrán tu ritmo cardíaco va y te mantendrá en movimiento con una variedad de entrenamientos. Pueden adaptar los entrenamientos para cualquier nivel de la aptitud, del entrenamiento de la fuerza del principiante a las técnicas avanzadas en mancuernas y el levantamiento de pesas olímpico. ¡Traiga a un amigo y desafíe el uno al otro para ser el más apto y sudada la gente en el gimnasio!
✾ Notice a sweat theme? That's how we roll in Nicaragua! It's impossible not to sweat here, but it's good for you! Sweating helps clear your skin's pores, remove toxins, increase blood circulation, kill viruses and bacteria, and relieve stress! (Source: Mercola) Bring a towel to class (or we have them here for sale) and GET SWEATY!
¿Nota un tema de sudor? ¡ así es como hacerlo en Nicaragua! ¡Es imposible no sudar aquí, pero es bueno para ti! ¡La sudoración ayuda a limpiar los poros de su piel, eliminar las toxinas, aumentar la circulación sanguínea, matar a los virus y bacterias, y aliviar el estrés! (fuente: Mercola) ¡Llevar una toalla a clase (o los tenemos aquí para la venta) y sudar!