Vea nuestras descripciones de clases debajo del horario.  Se incluyen clases para todos los miembros que pagan sus membresías. 
Por respeto a nuestros entrenadores, otros miembros y usted mismo,  por favor llegue a tiempo.
See our class descriptions below the schedule.  Classes are included for all members with accounts in good standing.
Out of respect for our coaches, other members, and yourself,  please show up on time.
 Horarios del Gimnasio / Gym Hours
Lunes – Viernes

: 6:30am a 8:00pm     

Sabado

: 6:30am a 5:00pm
Monday – Friday

: 6:30am to 8:00pm   

Saturday

: 6:30am – 5:00pm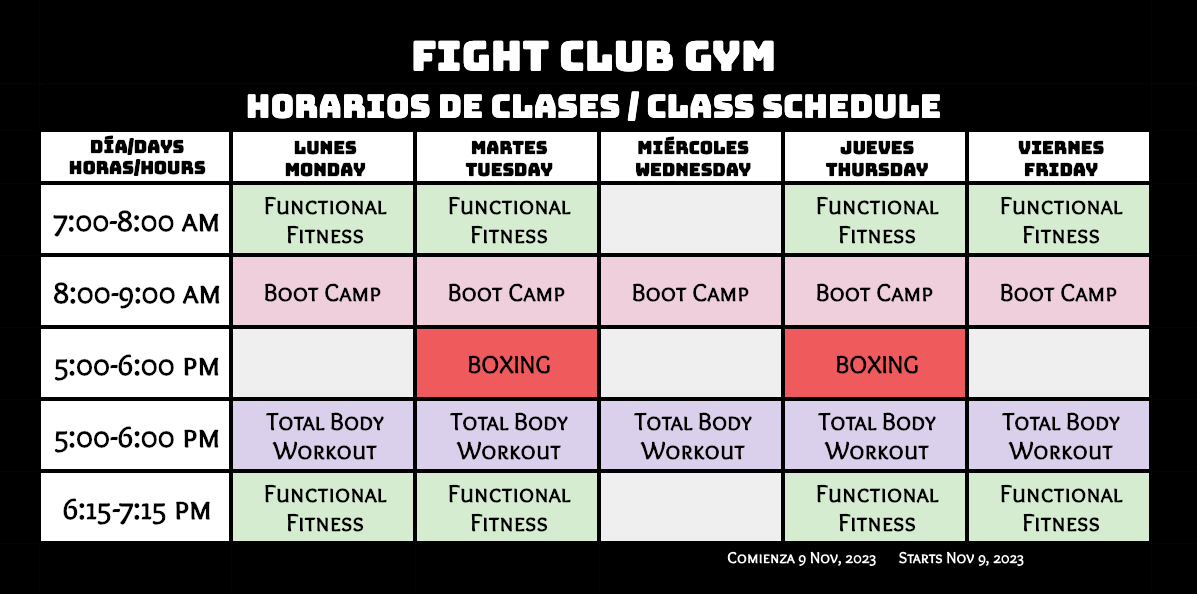 Descripciones de Clases / Class Descriptions
➳  Boot Camp 
¿Necesitas una clase de ejercicios temprano en la mañana para ponerte en marcha? ¿Necesitas aliviar algo de estrés antes del trabajo? Si quieres comenzar con una divertida clase de ejercicios para todo el cuerpo, o si estás en una visita de la ciudad y deseas ayuda para quemar las calorías de esas Toñas, ¡ven a nuestra clase de entrenamiento con Lesly! Esta clase combina cardio, entrenamiento de fuerza y ejercicios abdominales con una variedad de ejercicios. Sudor garantizado!
Need an early morning fitness class to get you going? Need to relieve some stress before work? If you want to get started with a fun total-body workout class, or are in town visiting and want help working off those Toñas, come to our boot camp class with Lesly! This class mixes cardio, strength training, and abdominal workouts with a variety of exercises. Sweating guaranteed!
➳  Boxing
¿Quieres aprender a lanzar algunos golpes? ¿Interesado en aprender algunas habilidades de defensa personal? ¿Quieres ponerte en forma mientras golpeas cosas y personas? ¡Carlos compartirá su conocimiento del boxeo mientras te da un gran entrenamiento! Esta clase incorpora una combinación de aprendizaje de una variedad de combinaciones de boxeo ofensivas y defensivas con cardio, coordinación ojo-mano y entrenamiento de movilidad. También aumentará su resistencia cardiovascular a través de circuitos de entrenamiento intensos y trabajo en los sacos de boxeo.
Want to learn to throw some punches? Interested in learning some self-defense skills? Want to get fit while hitting things and people? Carlos will share his knowledge of boxing while giving you a great workout! This class incorporates a mix of learning a variety of offensive and defensive boxing combinations with cardio, hand-eye coordination, and mobility training. It will also build your cardio endurance through intense training circuits and bag work.
➳  Functional Fitness
¿Quiere llevar la fuerza de su cuerpo y la capacidad de quemar grasa al siguiente nivel? ¿Quieres aprovechar al máximo una hora de ejercicio y sentirte increíble al final? Esta es la versión de gran tamaño de nuestra clase de CARDIO. Arlen entrenará a los atletas a través de una serie de movimientos que se centran en la quema de grasa y el entrenamiento de resistencia. Los entrenamientos están diseñados para trabajar una variedad de grupos de músculos, desarrollar la resistencia cardiovascular y, sobre todo, eliminar todos los problemas del día y ayudarlo a dormir bien por la noche!
Want to take your body's strength and fat-burning ability to the next level? Want to get the most out of an hour working out and feel awesome at the end? This is the supersized version of our CARDIO class.  Athletes will be coached by Arlen through a series of movements geared toward fat-burning and resistance training fitness. The workouts are designed to work a variety of muscle groups, build cardio stamina, and most of all, sweat all the troubles of your day away and help you get a good night's sleep!
➳  Strength and Conditioning
¡La asistencia regular a estas clases de entrenamiento de intervalos de alta intensidad te harás más fuerte, más saludable, y quieres seguir regresando por más! Justin y Arlen obtendrán tu ritmo cardíaco va y te mantendrá en movimiento con una variedad de entrenamientos. Pueden adaptar los entrenamientos para cualquier nivel de la aptitud, del entrenamiento de la fuerza del principiante a las técnicas avanzadas en mancuernas y el levantamiento de pesas olímpico. ¡Traiga a un amigo y desafíe el uno al otro para ser el más apto y sudada la gente en el gimnasio!
Regular attendance at these high-intensity interval training classes will make you stronger, fitter, and want to keep coming back for more! Justin and Arlen will get your heart rate going and keep you moving with a variety of workouts. They can scale the workouts for any fitness level, from beginner strength training to advanced techniques in barbells and Olympic weightlifting. Bring a friend and challenge each other to be the fittest and sweatiest people in the gym!
➳ Total Body Workout
Ya sea que desee adelgazar su cuerpo o desarrollar sus músculos, ¡esta clase es para usted! Muchas personas piensan que solo el cardio puede hacer que tengan una forma delgada y elegante, pero desarrollar músculos fuertes es una forma efectiva de perder grasa. Los músculos queman más calorías cuando está descansando, por lo que cuanto más tono muscular tenga, su metabolismo funcionará mejor durante todo el día. Trabaja con Lesly para desarrollar la resistencia y la fuerza a través de un circuito de movimientos con pesas. Él te brindará motivación y asistencia con tu técnica, para que también puedas aprender a ejercitarte por tu cuenta. Esta hora está dedicada a brindarle la oportunidad de trabajar todos los grupos musculares principales, con circuitos para la parte superior del cuerpo, la parte inferior del cuerpo y los abdominales.
Whether you want to slim down your body or build up your muscle, this class is for you! Many people think that only cardio can get them to a slim and sleek shape, but building strong muscles is an effective way to lose fat. Muscles burn more calories when you are resting, so the more muscle tone you have, your metabolism will perform better all day long. Work with Lesly, on building stamina and strength through a circuit of movements with weights. He will provide motivation and assistance with your technique, so you can also learn how to work out on your own. This hour is dedicated to giving you a chance to work all major muscle groups, with circuits for the upper body, lower body, and abdominals.
✾ ¿Nota un tema de sudor? ¡ así es como hacerlo en Nicaragua! ¡Es imposible no sudar aquí, pero es bueno para ti! ¡La sudoración ayuda a limpiar los poros de su piel, eliminar las toxinas, aumentar la circulación sanguínea, matar a los virus y bacterias, y aliviar el estrés! (fuente: Mercola) ¡Llevar una toalla a clase (o los tenemos aquí para la venta) y sudar! (Solo asegúrate de limpiarte el sudor y desinfectar las cosas que usas).
✾ Notice a sweat theme? That's how we roll in Nicaragua! It's impossible not to sweat here, but it's good for you! Sweating helps clear your skin's pores, remove toxins, increase blood circulation, kill viruses and bacteria, and relieve stress! (Source: Mercola) Bring a towel to class (or we have them here for sale) and GET SWEATY! (Just make sure to wipe up your sweat and spray down the stuff you use.)