See our class descriptions below the schedule.  Check back each month for new classes and times!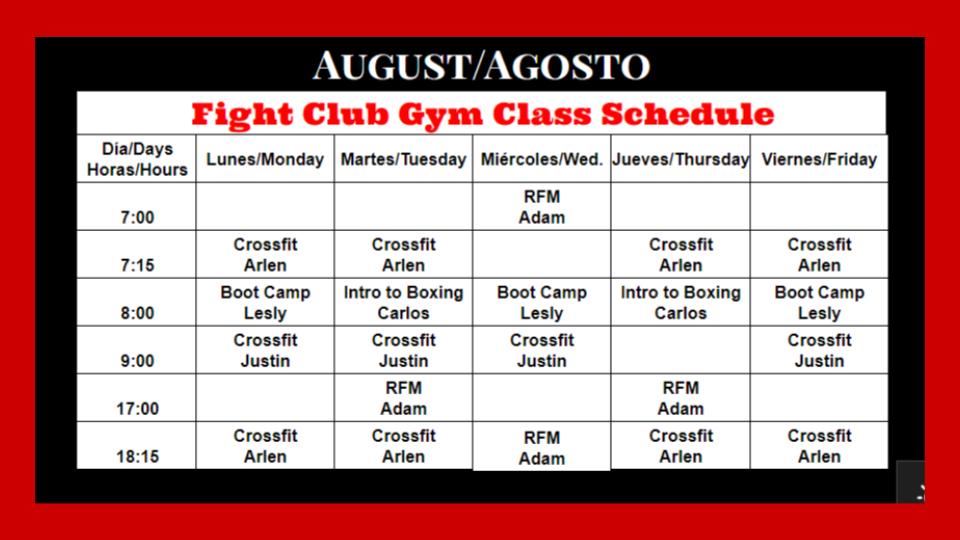 ♦ Crossfit
Regular attendance at these high intensity interval training classes will make you stronger, fitter, and want to keep coming back for more! Justin and Arlen will get your heart rate going and keep you moving with a variety of workouts. They can scale the workouts for any fitness level, from beginner strength training to advanced techniques in barbells and Olympic weightlifting. Bring a friend and challenge each other to be the fittest and sweatiest people in the gym!
¡La asistencia regular a estas clases de entrenamiento de intervalos de alta intensidad te harás más fuerte, más saludable, y quieres seguir regresando por más! Justin y Arlen obtendrán tu ritmo cardíaco va y te mantendrá en movimiento con una variedad de entrenamientos. Pueden adaptar los entrenamientos para cualquier nivel de la aptitud, del entrenamiento de la fuerza del principiante a las técnicas avanzadas en mancuernas y el levantamiento de pesas olímpico. ¡Traiga a un amigo y desafíe el uno al otro para ser el más apto y sudada la gente en el gimnasio!
♦ Boot Camp
Need an early morning fitness class to get you going? A good old ass whoopin' to work those muscles? If you want to get started with a fun general fitness class, or are in town visiting and want help working off those Toñas, start your day with Lesly and come to our strength & stretch boot camp! Sweating guaranteed!
¿Necesitas una clase de fitness temprano por la mañana para motivarte? ¿Un buen culo viejo latiendo para trabajar esos músculos? ¡Si quieres empezar con una divertida clase de fitness general, o estás en la ciudad visitando y quieres ayudar a quemar calorías de todos los Toñas que bebiste, empezar el día con Lesly y llegar a nuestro campamento de fuerza y estiramiento de arranque! ¡Transpiración garantizada!
♦ Raw Functional Movement (RFM)  
This class is designed to get you stronger and move better.  Adam likes to use resistance training and body weight workouts. These workouts will assist in cardio, strength training, fat loss, gait pattern training, and reflexive strength. This class will work all the muscles in your body, including those you didn't know you had! It's time to take your body to the next level!
Esta clase está diseñada para hacerte más fuerte y moverte mejor. Adam le gusta usar entrenamiento de resistencia y entrenamientos de peso corporal. Estos entrenamientos ayudarán en cardio, entrenamiento de la fuerza, pérdida gorda, entrenamiento del patrón del paso, y fuerza reflexiva. Esta clase funcionará todos los músculos de tu cuerpo, incluyendo aquellos que no sabías que tenías! ¡Es hora de llevar tu cuerpo al siguiente nivel!
♦ Intro to Boxing
Want to learn to throw some punches? Interested in learning some self-defense skills? Want to get fit while hitting things and people? Carlos will share his knowledge of boxing while giving you a great workout!
¿Quieres aprender a lanzar algunos puñetazos? ¿Interesado en aprender algunas habilidades de auto-defensa? ¿Quiere ponerse en forma mientras golpea las cosas y la gente? ¡Carlos compartirá sus conocimientos de boxeo, mientras que le da un gran entrenamiento!
***Notice a sweat theme? That's how we roll in Nicaragua! It's impossible not to sweat here, but it's good for you! Sweating helps clear your skin's pores, remove toxins, increase blood circulation, kill viruses and bacteria, and relieve stress! (Source: Mercola) Bring a towel to class (or we have them here for sale) and GET SWEATY!
¿Nota un tema de sudor? ¡ así es como hacerlo en Nicaragua! ¡Es imposible no sudar aquí, pero es bueno para ti! ¡La sudoración ayuda a limpiar los poros de su piel, eliminar las toxinas, aumentar la circulación sanguínea, matar a los virus y bacterias, y aliviar el estrés! (fuente: Mercola) ¡Llevar una toalla a clase (o los tenemos aquí para la venta) y sudar!