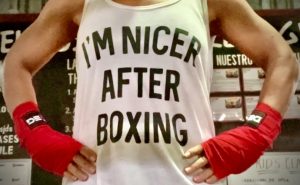 We wouldn't be a Fight Club if we didn't have boxing training, now would we?
Don't think that boxing is for you? Think again! Boxing is a total body workout with several physical, mental, and even emotional benefits! Boxing helps you get toned while enhancing your cardiovascular endurance. It improves your overall body strength and helps in making your bones denser, therefore helping in preventing osteoporosis. Boxing also decreases stress by acting as an outlet for everyday anger and frustration. Last but not least, boxing helps you develop important and possibly lifesaving self-defense skills!
Our excellent boxing coach, Carlos, will teach you proper boxing techniques in a fun and friendly setting. We train people of all ages and abilities. Bring a friend (or someone you don't really like) and learn how to punch each other! For more information about Private Boxing Training contact us via Facebook Messenger, or drop into the gym to schedule a class! Spaces are limited, please contact us at least one week in advance to reserve a training time.
Find your inner Rocky!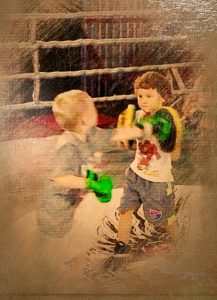 No seríamos un club de lucha si no tuviéramos entrenamiento de boxeo, ¿verdad?
¿No crees que el boxeo es para ti? ¡Piensa otra vez! ¡El boxeo es un entrenamiento de cuerpo completo con varios beneficios físicos, mentales e incluso emocionales! El boxeo te ayuda a tonificarte mientras mejora tu resistencia cardiovascular. Mejora la fuerza general de su cuerpo y ayuda a que sus huesos sean más densos, lo que ayuda a prevenir la osteoporosis. El boxeo también disminuye el estrés al actuar como una salida para la ira y la frustración cotidianas. Por último, pero no menos importante, ¡el boxeo te ayuda a desarrollar habilidades de defensa personal importantes y posiblemente que salvan vidas!
Nuestro excelente entrenador de boxeo, Carlos, te enseñará las técnicas de boxeo adecuadas en un ambiente divertido y amigable. Capacitamos a personas de todas las edades y habilidades. ¡Trae un amigo (o alguien que no te guste realmente) y aprende a golpearse! Para obtener más información sobre el entrenamiento de boxeo privado, contáctenos a través de Facebook Messenger, o visite el gimnasio para programar una clase. Los espacios son limitados, contáctenos con al menos una semana de anticipación para reservar un horario de capacitación.