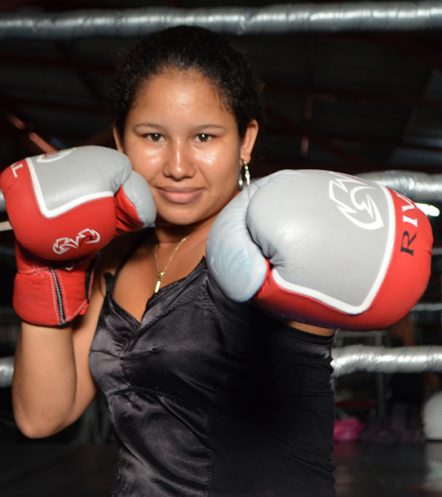 Yamali grew up and went to school in the San Juan del Sur area. She has 2 sons and she is presently learning English, so be sure to help her practice when you see her! She is a hard worker and she loves boxing! One of the perks of working at the Fight Club Gym is that she gets to work out!
I like to work in a place where people can exercise, it's never too late to change your life! The gym is very fun, I like to socialize with other people and especially the opportunities to learn English every day!
Yamali creció y fue a la escuela en el área de San Juan del Sur. Ella tiene dos hijos y actualmente está aprendiendo inglés, ¡así que asegúrese de ayudarla a practicar cuando la vea! Ella es muy trabajadora y le encanta el boxeo. Una de las ventajas de trabajar en el Gimnasio Fight Club es que ella puede ejercitarse y tomar clases.
Me gusta trabajar en un lugar a donde la gente pueden hacer ejercicio, nunca es demasiado tarde para cambiar tu vida! El gimnasio es muy divertido, me gusta socializar con las demas personas y sobre todo las oportunidades de aprender el ingles cada dia!