We are temporarily closed. Be assured that active memberships will be suspended during the period of time that our club is closed. Go to our Facebook page for daily workouts posted to do from home!
Stay safe and healthy, everyone!
Estamos temporalmente cerrados. Tenga la seguridad de que las membresías activas serán suspendidas durante el período de tiempo que nuestro club está cerrado. ¡Ve a nuestra página de Facebook para ver los entrenamientos diarios publicados desde tu casa!
¡Manténgase seguro y saludable a todos!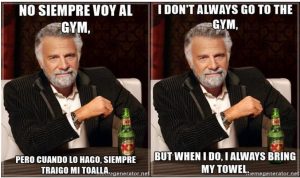 Atención Miembros del Gimnasio
Hace calor. Tu sudas. Por favor traiga su propia toalla. Toallas también estarán disponibles para su compra en la recepción. Gracias por su colaboracion.
Attention Gym Members
It's hot. You sweat. Please bring your own towel. Towels are also available for purchase at the front desk. Thank you for your cooperation.