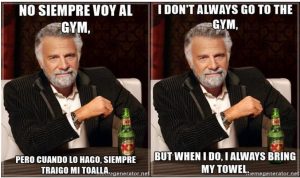 Attention Gym Members
Beginning June 1, we will be "going green" and will not have paper towels. Please bring your own towel. Towels will also be available for purchase at the front desk. Thank you for your cooperation.
Atención Miembros del Gimnasio
A partir del 1 de junio, "actuaremos más ecológicamente" y no tendremos toallas de papel. Por favor traiga su propia toalla. toallas también estarán disponibles para su compra en la recepción. Gracias por su colaboracion.